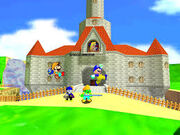 Shroomwood is a group that is found by Schm2000, iJosh64, DylanDylan54321 and SonicFan13 as a new group to support the community as well creating Sm64 machinimas and defend the MM54321 Wiki.
Goals and Format:
The community's goal is to form a seperate SM64 community that tries to replicate the original SM64 community. It also tries to end the Ware War or ignore it entirely. In the community, there is no ultimate leader or power, each member is equal and their rules and contributions must be approved by others. They can collaborate and make SM64 videos together, lend projects based off Shroomwood, or just chat together and play video games.
Members:
iJosh64 /Camjosh9
DylanDylan54321 (formerly)
The_Zog./BedrockPerson
Appearances
Fall of YouTube
Back to the Fourth Dimension (Appearances by Zog, Dylan, Schm, IJosh and SonicFan13)
Search for the Power Robot
Ad blocker interference detected!
Wikia is a free-to-use site that makes money from advertising. We have a modified experience for viewers using ad blockers

Wikia is not accessible if you've made further modifications. Remove the custom ad blocker rule(s) and the page will load as expected.