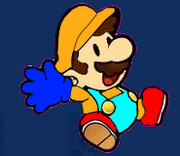 SonicFan13 is a co-leader of Shroomwood, and a member of Wiki Revivers. He appears as a protagonist in the KS movie, which is made  by DylanDylan54321, LL573 and other KS members. Currently Dylan is trying to find a spot for him in the series. He is also expected to appear in Adventure through the Forbidden Dimension, and Fall of YouTube. 
DeathRocket4990 (friendly rivalry)
SuperEmiga (formerly dislike, until the "Ware war")
Nintendoteen202
Ad blocker interference detected!
Wikia is a free-to-use site that makes money from advertising. We have a modified experience for viewers using ad blockers

Wikia is not accessible if you've made further modifications. Remove the custom ad blocker rule(s) and the page will load as expected.